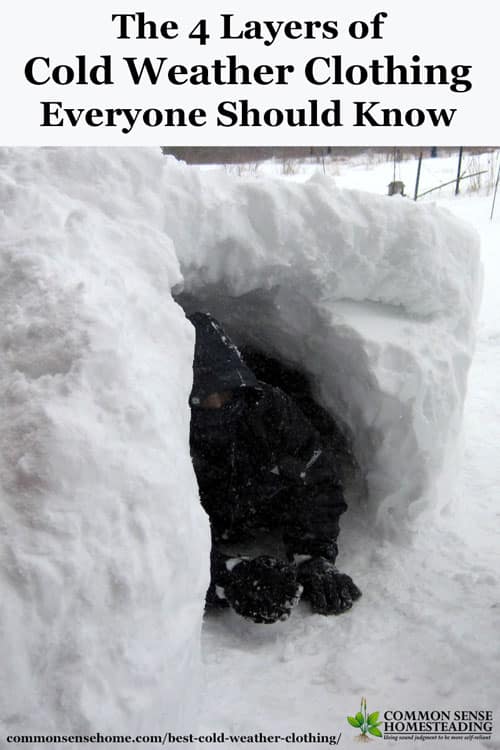 In this post, I'm going to quickly review the best cold weather clothing tips for extreme weather, adapted from the Field Manual for the U.S. Antarctic Program. Then we'll get into some of our favorite gear for general cold weather wear. Finally, I'll wrap up with a Fortress Clothing review. Look things through, and decide which clothes are a worthwhile investment for your cold weather safety and comfort.
How to Dress for Cold Weather
In general, the rule of thumb for living in a cold environment is to get lots of insulation between you and the environment, and to remove that insulation layer by layer when you get warmer. You need a clothing system that allows you to shed layers quickly and easily before you get damp from perspiration. Several thinner garments will serve this purpose better than one bulky overcoat.
The 4 Layers of Extreme Cold Weather Clothing (ECW)
1. Long Underwear
Your first layer should be your long underwear. It should fit snugly against your skin and be made of a nonabsorbent material. This layer works by wicking away water and keeping your skin dry.
Synthetic fabrics such as polypropylene work the best, whereas wool and silk are the best natural fibers. Cotton is a poor choice because it absorbs water and holds the water next to your skin where it will cool you off. Personal note – I have thick calves and broad shoulders, so I usually buy men's long underwear, as the women's tends to be cut skimpy.
Some long underwear options:
FX Womens MAXHEAT Fleece Long Johns Thermal Underwear
FX Mens MAXHEAT Fleece Compression Performance Long Johns Thermal Underwear
Tesla Blank Men's Microfiber Fleece Lined Top & Bottom Set
2. Mid Layers
The next layers are important because they serve to absorb the moisture out of your long underwear and transport it to the environment through evaporation.
Once again, synthetics are best here, but wool is a good substitute. Shirts, sweaters, and trousers are what you will likely be wearing when you are active. Pay close attention to the fit, as the mid layers work by trapping air and preventing it from circulating and carrying away your body heat.
Some mid layer options include:
Men's Daybreaker Fleece Jacket
3. Insulation Layer
Thickness is warmth. For sedentary activities or extremely cold conditions, an outer garment with several inches of loft is recommended. Down, Polarguard, Holofill, Thinsulate, and Primaloft are the types of insulation that the USAP uses in the ECW gear.
Some Down Coat Options:
Ultra-Lightweight Hooded and Stand Collar Packable Down Puffer Jacket Coat with Travel Bag
Columbia Men's Lone Fir 650 Turbodown Hooded Jacket
For personnel working in the Peninsula area it is important to understand that down loses most of its loft when wet and takes a long time to dry, so you must be careful to avoid getting down garments wet. Synthetic insulation is a better choice for working in potentially wet conditions.
Some synthetic options:
AIRBOSS Women's Parka with Thinsulate
Lined Quilted Holofill Vest Big and Tall USA Made
Women's Plus Size Knee-Length Arctic Parka
4. Shell Layer
The most important part of your layering system, and the most used besides your long underwear, is your windshell. Studies conducted by Recreational Equipment Co-Op show that in still air, windshells worn over any garment can add up to 25°F of warmth. In windy conditions, windshells can increase warmth by 50°F or more.
Personnel working in the McMurdo system are issued a windshell that is windproof but not waterproof. Because of the dry climate, the non-waterproof fabrics are superior because they allow your perspiration to escape more easily. Personnel working in the Peninsula area are issued a waterproof/breathable windshell because of the potentially wet conditions encountered there.
Some windshell options:
Outdoor Research Men's Horizon Jacket
Women's Scopi Windshell Jacket
Accessories
Conditions in Antarctica are frequently extreme. Remember that you need to pay particular attention to protect your head, neck, and extremities with layers comparable to your other clothing. If you be doing work that requires much use of your hands, consider requesting chemical heat packs for inside your gloves For work that must be done without heavy gloves or mittens (for dexterity), use polypro glove liners.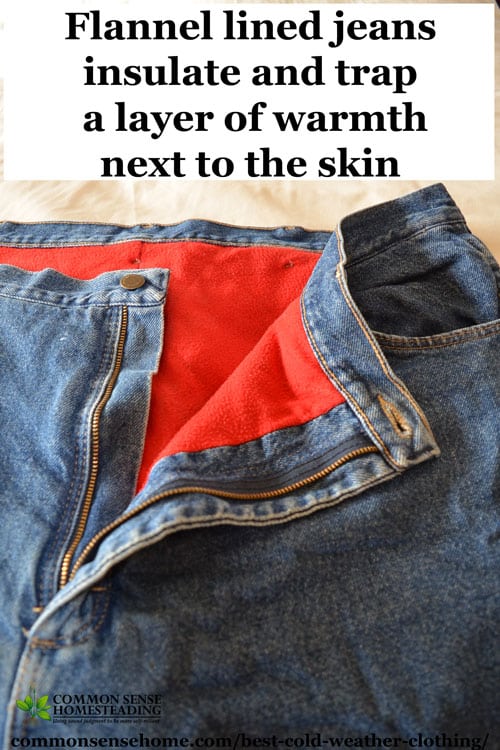 Cold Weather Pants
For working outside in cold conditions, flannel lined jeans are a great option by themselves, or in combination with other layers for extreme cold. My sons and husband are the same size, so sometimes my husband finds his lined jeans missing from the closet. (Might be time to get the boys their own pairs for Christmas…)
Some lined jean options include:
Carhartt Men's Relaxed Fit Straight Leg Flannel Lined
LEE Men's Fleece and Flannel Lined Relaxed-Fit Straight-Leg Jeans
Dickies Men's Relaxed Fit Flannel Lined Jean
Dickies Women's Flannel Lined Jean
Eddie Bauer Women's Boyfriend Flannel-Lined Jeans
No More Cold Feet
Fortress clothing Hot Socks are an insulating foot cover that can be worn inside as a slipped or outside as a boot liner. They are not designed for outside wear as a stand alone item. (The name is "Hot Socks", not "Hot Boots".) You can replace your existing boot liner or wear them inside a larger muck boot. I've been wearing mine around the house as slippers because they don't make my feet sweat.
A reader recommended MukLuk slippers, saying that she's be very happy with the ones she received as a gift. (Most used Christmas gift ever.) MukLuks come in several different styles, including:
MUK LUKS Women's Sofia Slipper, which cover the ankle
Women's Tall Fleece-Lined Slipper Boot, which come further up the leg
Muk Luks Men's Mark Slipper, which sits low on the ankle
Another reader recommended Warrior Alpaca Socks, saying that they kept her feet warm even though she has Raynaud's Phenomena. Carhartt synthetic/wool blend socks are durable and breathe well. Arctic Extreme socks are fully synthetic and very well reviewed on Amazon.
See also: "Emergency Underwear and Socks – More Important Than You May Realize".
Fortress Clothing
Early in 2015 I was contacted by Dale Lewis of Fortress Clothing, who introduced me to the best cold weather clothing I've encountered to date – Fortress Clothing. The boys and I did some testing at the tail end of winter, but we decided to save the review for when folks started thinking more about winter preps.
Fortress winter clothing addresses a number of cold weather needs:
Staying warm when you get wet. Who hasn't gotten slopped by water or slush when out doing chores or even shoveling wet, heavy snow?
Staying comfortable in a range of temperatures. I hate it when you're going in and out of buildings and you work up a sweat inside and then get frozen clammy outside.
Having an extra layer of safety for power outages. When you're without heat for several days, your house may not freeze, but it sure isn't comfortable. This gear is light enough that you can wear it and still tackle day to day activities in comfort.
How Does Fortress Clothing Work as Cold Weather Gear?
Fortress is a "base" or "mid-layer" cold weather garment that is designed to keep you warm – even when wet. It is designed also to be worn as a mid-layer/insulation garment (ie: underwear/Fortress mid-layer garment/outer shell appropriate for the conditions – typically NOT an insulated coat).
The engineered polymer used as the insulation in Fortress clothing is hydrophobic – it repels water. Fortress doesn't hold on to water, or the perspiration your body puts out.
Water is 25X more conductive than air, so if your sweat, slush, cow slobber or anything else stays trapped next to your skin, the heat of your body is channeled through that moisture away from you.
Some other winter clothing options claim to be both waterproof and breathable in one garment. These garments are typically 100% Waterproof and only 15% breathable. Once the pores in the garment are filled, they trap the dampness and you get cold.
When you pair up Fortress clothing with a windproof shell (not waterproof, as noted above in the Antarctica recommendations), Fortress covers the wet conditions and sweat and your windbreak covers the wind, and you are covered in comfort. Fortress has been worn from -30°F to 70°F.

In the video below, my son does the ice bucket challenge wearing Fortress clothing. He also spends a good deal of time with his hand submerged in ice water, and comes out without pruney fingers or chafing.
If you'd like to learn more about Fortress Clothing, please visit http://www.fortressclothing.com/ and watch more videos of their cold weather gear in action.
What's your biggest cold weather clothing challenge?
Where do you have the most difficulty staying warm? Is is out doing chores, hunting, snowmobiling, snowblowing, shoveling? What are your favorite brands of winter clothing and gear? Do you have any tips for keeping warm that you'd like to share? We'd love to hear from you.
You may also find useful:
Don't forget to check out the Common Sense Preparedness page for a full list of our preparedness posts.
Thank you to Fortress Clothing for sponsoring this post.
Originally published in October 2015, updated in 2017.
The post The 4 Layers of Cold Weather Clothing Everyone Should Know appeared first on Common Sense Homesteading.
This Article Was Originally Posted at commonsensehome.com Read The Original Article Here