15 Pet Projects & Recipes
It's time to treat your old pal to some awesome home made pet recipes! Maybe your cat isn't feeling great in its bed anymore – or maybe your dog won't stop begging for a better meal. Whatever the case may be, you should always treat your furry friends like family! Pet beds can be pricey, but check out our awesome do-it-yourself tutorials on how to make them for much cheaper. Need a cat-tree? No problem.
15 DIY Pet Projects & Recipes
1. Homemade Organic Cat Treats
If your kitty goes nuts over the crunch factor in his/her treats, then try making these delicious treats that will have him/her begging for more (and acting a bit silly too). These delicious cat treats are bursting with spinach, chicken, and organic catnip. The best part? You won't have to play a guessing game about what went into your loved one's food.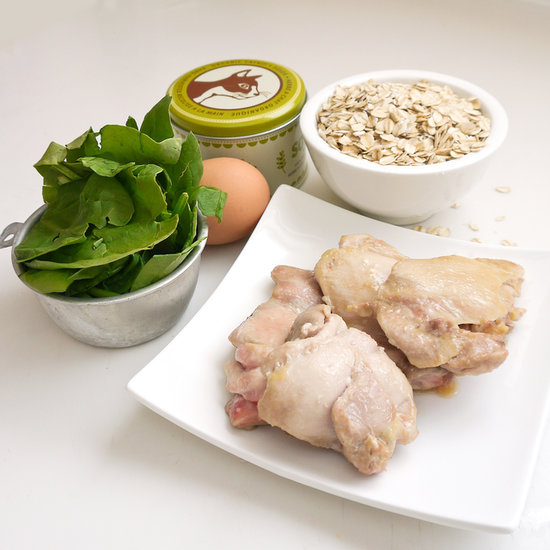 via petsugar
2. Knit A Toy Your Dog Will Love
Ever wanted to take up knitting, but you just couldn't find a good enough reason? Yeah, that happens. Check out this simple do-it-yourself pet knitting project that is just the cutest thing. All you really need is a little yarn, some needles, and a stitch marker to make it happen. Expect some lovin' from your waggly-tailed friend with this adorable pet project.
3. Make Your Own Ikea Style Cat Tree
To be honest, I've never actually seen one of these until a friend had one in their living room. I thought to myself, "Why wouldn't you just get a little cat house to climb instead?" My friend assured me that they were well worth the time and money. Boy, was he right! His cat totally loved the thing and wouldn't get down from the highest perch all day! Not to mention that they're kind of cool looking. Check out how to make your own on the cheap!

via diyready
4. DIY Easy and Washable Pet Bed
If you're a pet owner, you know nothing gets stinkier than a gnarly pet bed. It's just the nature of owning a pet. I also know that if you have pets, you sometimes wish you could fit it in the washing machine. I found this super cozy & chic pet bed that folds up nicely enough to toss it in the washing machine. Never worry about your foyer warding off guests. Find out how by visiting the website below!

5. Cat Bed Junk Project
Check out this amazing re-purposed table! Well, it WAS a table. Now it's an incredibly cozy cat bed. I'll admit that at first I was like eh – I don't know of it this is going to work out, but the end result it absolutely fantastic and not to mention it isn't terribly difficult to pull off. All you need is an old table and some sewing materials. The possibilities are endless! This cat bed would look perfect in a cozy cottage setting.
via junkcampblog

report this ad
6. How To Make PupCakes!
Have you ever seen something more amazing, more perfect, and more stinking cute than these pupcakes? I haven't. I was always wondering what I could make for my furry friend on her birthday. Now, thanks to Instructables I know exactly what I will be making for her next one – PUPCAKES! Now you can most certainly let them eat cake. Have you seen our list of best dog treat recipes? Check them out!
via instructables
7. DIY Pet Bowl Stand
Pet bowls can be costly. Especially if you're looking to buy the boutique-y pet stands. Check out how to make a simple double pet bowl with this awesome tutorial. The tools are the most difficult part, but once you get through the drilling you're pretty much finished. If you have a friend with a shop we recommend using it! You'll need a jig saw which you probably don't have at your disposal. This makes a great beginners woodworking project! Thanks for the awesome tips!
via censationalgirl
8. Vintage Suitcase Dog Bed
I've been obsessed with this vintage suitcase dog bed idea for a long time now. This is one of those simple sewing projects that only takes a few hours and the outcome is just fantastic! Add a little shabby chic to your home decor with this fun pet project. Homemade dog beds are cheap and give your pooch a new place to snuggle up!
via Mox and Fodder
9. How To Make Homemade Doggie Biscuits
Never worry about a treat shortage again with these easy freshly bakes biscuits! We figured out a recipe that you furry friend will go nuts over! Let us know how much you like it and if you made it differently. We want to know what your thoughts are!
via diyready
10. Pet Teepee (How…Cute)!
I always wanted to make my pup a little place to go hide n seek and thanks to Free Peoples' awesome blog I no longer have to search for one! You can buy one or simple make it yourself at home and save a couple extra dollars. The one they have featured on their blog is absolutely fantastic! I love that darker colors and the size and shape is perfect for a corner in my living room. Check it out!
via Free People
11. DIY Lemon Rind Bird Feeders
Create these lovely lemon rind bird feeders with this simple tutorial. For those of you who prefer to gawk at nature's beauty and appreciate having a whole world of possible pets – this project is perfect for you! Sometimes you don't always have the time to take care of a pet. This adorable bird feeder is a great way to spend a Spring day with binoculars and a lemonade! Take pride in the beauty of mother nature with this simple bird feeder made from lemon rinds
via littlemissmama
12. How To Make Homemade Dog Food
Check out our homemade dog food recipe and instructions for the best dog food recipe on earth! We promise that your furry friend will go nuts over this stuff! It's simple and it involves getting ingredients you probably pick up from the pet food store on a regular basis. Want to learn more? Check out our quick and easy tutorial on how it's done.
via diyready
13. Self-Filling Pet Water Bowl
I've been wondering about the possibility of making one of these! Thanks to make zine's awesome instructable – I can honestly say that it's well worth the extra effort! You'll never have to worry about your dog (or cat) waking you up because they're thirsty! With this self-watering pet bowl you can rest assured your pets thirst will always be quenched! This is a great tip for hot summer days!
via makezine
14. Make A Pet Sweater Bed…For Your Small Furry Friend
Craft an adorable pet bed using an old sweater and some extra fabric. In this case – it's a little bunny bed, but I'm sure you can use it for any small pet of your choice. I kind of like the pattern on this one too, no? I love how it's sort of…kind of like your grandpa's vintage sweater (or maybe you thrifted it). Learn more about how to create a cozy little spot for your little cuddly critter!
via empressofdirt
15. How To Make A Paracord Dog Collar
Never buy another cheaply-made dog collar from your local pet store again! Check out our original hand made DIY paracord dog collar. Paracord is super affordable and easy to work with. It's durable and lightweight (besides its survival purposes) and makes great belts, hats, and….dog collars?! Yep. There is a lot you can do with this sturdy and reliable rope-like cord. Check out the full tutorial below!
via diyready
That's all folks! I hope you enjoyed this awesome list of simple pet projects!
Did we miss something? Do you have pet projects that you've made that you want to share with us? We love hearing from you! Let us know how these recipes worked for you. Share your links to more neat pet projects in the comments section below!
Want the best pedicure for your furry friend?
Originally posted on June 10, 2014 @ 2:14 PM
Comments
comments
Suggested Videos
This Article Was Found On pioneersettler.com Read the Original Article
NYC Adds Nearly 4,000 People Who Never Tested Positive To Coronavirus Death Tolls
New York City added nearly 4,000 people who never tested positive for the coronavirus to its death toll Tuesday, bringing coronavirus-related deaths in the city to around 10,000 people.
The city decided to add 3,700 people to its death tolls, who they "presumed" to have died from the virus, according to a report from The New York Times. The additions increased the death toll in the U.S. by 17%, according to the Times report, and included people who were suffering from symptoms of the virus, such as intense coughing and a fever.
The report stated that Democratic New York City Mayor Bill de Blasio decided over the weekend to change the way the city is counting deaths.
"In the heat of battle, our primary focus has been on saving lives," de Blasio press secretary Freddi Goldstein told the Times."As soon as the issue was raised, the mayor immediately moved to release the data."
The post New York City added nearly 4,000 people who never tested positive for the coronavirus to its death toll appeared first on Daily Caller
This Article Was Originally Posted On dailycaller.com Read the Original Article here
How To Make Lacto-Fermented Sauerkraut In A Mason Jar
The thing about homesteading is you get to create your own ingredient right from scratch! Cheese, yogurt, butter and now sauerkraut, a delightfully sour and crunchy ingredient you can use on your meals — or consume by itself — while on a homestead, or while facing this health crisis!
This homemade sauerkraut is a great meal because it has a long shelf life. You can either make plain sauerkraut or mix it with herbs and spices. In this tutorial let us make Lacto-fermented sauerkraut that preserves all the good probiotics in a jar, good for your guts.
So how to make sauerkraut in a mason jar?
RELATED: How To Make Buttermilk On Your Homestead
Delicious Sauerkraut Recipe Every Homesteader Should Know
Why Make Sauerkraut?
Not only does sauerkraut spoil a long time, but it is also a meal in itself, and it is also easy to make! You don't need to be an expert cook, all you need to do is follow these simple steps.
So let us get started. Here are the steps in making sauerkraut in a mason jar.
Ingredients:
1 head of cabbage or 2 1/2 lbs cabbage
1 tablespoon of salt
Tools Needed:
knife
bowl
mason jar
smaller jar
rubber band
Step 1: Wash & Clean the Tools & Ingredients

Wash all the equipment and utensils you need. Wash your hands too.
You don't want to mix your sauerkraut with bad bacteria, anything that is going to make you sick.
Next, remove the faded leaves from your cabbage. Cut off the roots and the parts that don't seem fresh.
Step 2: Cut the Cabbage Into Quarters & Slice Into Strips

Cut your cabbage into quarters and remove the core. Then, slice it into strips.
Step 3: Place in a Bowl & Sprinkle With Salt

Put the stripped cabbage into a bowl. Sprinkle the cabbage with 1 tablespoon of salt.
TIP: Use canning salt or sea salt. Iodized salt will make it taste different and may not ferment the cabbage.
RELATED: Homemade Yogurt Recipe
Step 4: Massage the Cabbage

Massage the cabbage for five minutes or more to get the juice out.
TIP: You'll know it's ready when you see a bit of juice at the bottom of the bowl and will look similar to coleslaw.
Step 5: Press Cabbage Into the Mason Jar

Add the cabbage to the mason jar gradually. Press it in hard to allow the juice to come out. Do this every time you add about a handful of cabbage.
IMPORTANT: Food should be covered by the liquid to promote fermentation. Add any excess liquid from the bowl to the jar.
Step 6: Press a Smaller Jar Into the Mason Jar

You want to squeeze every ounce of that juice from the cabbage. To do this place the mason jar in a bowl and get a smaller jar.
Fill it with water or marble to make it heavy. Press it into the bigger mason jar. Allow any juices to rise to the surface.
Step 7: Cover the Jars With Cloth & Tie With Rubber Band

Leave the small jar on. To keep your jars clean from annoying insects and irritating debris, cover your jars with a clean cloth. Then, use a rubber band to tie the cloth and the jars together, putting them in place.
Step 8: Set Aside & Check Daily
Set it aside in a cool dry place, away from direct sunlight. Check the water level daily. It should always be above the cabbage.
Step 9: Taste Your Sauerkraut & Keep at Cool Temperatures
After about five days, you can taste your sauerkraut. If the taste is to your liking, tightly cover it with the lid and store in the fridge or cellar.
NOTE: If after five days it's still not your desired taste, leave it for a few more days. This will allow the fermentation process to continue.
You can now enjoy your sauerkraut in a mason jar. Enjoy its goodness! You can use it as a side dish or mix it with your favorite sandwich.
Things to Remember in Making Sauerkraut
Store away from direct sunlight and drafts.
Colder weather will make the process longer. Spring is the best time to make them since the warmth helps activate the fermentation.
Always make sure that the cabbage is below the water level during the entire fermentation process.
If the water level decreases during the fermentation process, you can make a brine and add it.
Let us watch this video from Kristina Seleshanko on how to make delicious Lacto-fermented sauerkraut in a mason jar!
So there you have it! Making Lacto-fermented sauerkraut in a mason jar is as easy as slicing the cabbage into strips. Remember that as long it remains unopened, your sauerkraut can last for months. Best of all, you can partner this sauerkraut in many recipes.
What do you think of this homemade recipe? Share your best sauerkraut recipe in the comments section below!
Fellow homesteaders, do you want to help others learn from your journey by becoming one of our original contributors? Write for us!
UP NEXT:
Follow us on Instagram, Twitter, Pinterest, and Facebook!
Comments
comments
Suggested Videos
This Article Was Found On pioneersettler.com Read the Original Article
9 SPRING VEGETABLES FOR YOUR GARDEN
Having plants in the house will bring peace to people. Having a little garden with vegetables is even better! You can grow these vegetables in your backyard garden easily as well!
RELATED: Microgreens Growing Guide
In this article:
Growing veggies in your garden will give you an opportunity to understand what you eat and value it more. Early spring is when most vegetables are being planted. Keep reading to learn about 9 spring vegetables that anyone can grow in their garden!
Tomato
Tomato is the most popular garden vegetable in the States! There are different varieties to choose from. Tomatoes need to be planted in early spring because they won't survive a frost.
Because tomatoes are consumed daily, try adding them to your garden! They're not difficult to grow either.
Eggplant
Eggplants are known to have low-calorie, vitamins, minerals, and nutrients. Plus, they are delicious! So why not plant them in your garden?
Eggplants shouldn't be planted too early because they won't be able to survive a frost. So you could consult an expert in your area before you plant your eggplants.
Beets
Beets are known to be a superfood for its various health benefits. They're easier to grow in the garden, usually around late March or early April.
If the weather is always cool, beets will keep getting bigger and bigger. Once the weather starts to warm up, you'll need to harvest them, or they'll go to waste.
Spinach
Spinach is a delicious early spring veggie, and it's also very beneficial for health. And it's not difficult to grow spinach in your garden!
Spinach needs cold weather to grow. Getting spinach to grow is easy, but keeping it growing will require some extra care.
Pea
Peas are usually planted in late April. Peas will die in freezing temperatures, but they also won't survive the heat either. So make sure you plant your peas in early spring.
Peas are widely used in many different ways, and there are different types of peas. The soil you'll be planting your peas should be suitable for them, so make sure you ask while buying seeds.
Carrot
There are different types of carrots, but regardless of their size and color, it's a fact that carrots are both delicious and rich in vitamins.
They're root vegetables, so with proper sun and watering, they can be picked up as baby carrots as well.
Radish
A radish is an excellent option for beginners because it doesn't require too much care. Radish is easy to harvest.
Radish grows fast, so it's better to keep an eye on it after a few weeks. Radish usually is grown pest-free, but there's always the chance of unwanted guests, so watch out for worms. Radish can be eaten raw or can be added to garnish recipes.
Cauliflower
Cauliflower isn't the easiest vegetable to grow at home, but it is very popular.
Cauliflower grows better in colder weather, so before you plant it, consider the climate of your garden. Cauliflower can be eaten raw or cooked, and it is known to be very beneficial for health.
Asparagus
Freshly picked, tender asparagus is very delicious!
Asparagus plants get more productive with each harvest, and mature asparagus harvest can last for months! Make sure you plant them at the correct time, or else they might go to waste.
All the vegetables listed above are great for your healthy diet, and it's fun to watch them grow. So don't miss out on the opportunity to grow your own veggies and eat healthy this spring!
So tell us which veggies will you be growing this spring? Tell us in the comments section!
UP NEXT
Comments
comments
Suggested Videos
This Article Was Found On pioneersettler.com Read the Original Article